Di şexsê min de dixwestin PKK'ê û Tevgera Azadiyê tine bikin. Her tişt li ser mirina min eyar kiribûn. Bi giranî bi fîzîkî û heke ev nebûya jî tinekirina min a ji hêla maneyê ve hedefa sereke bû. Komplo bi helwesta min asteng bû û nesazkar bû.
Di şexsê min de dixwestin PKK'ê û Tevgera Azadiyê tine bikin. Her tişt li ser mirina min eyar kiribûn. Bi giranî bi fîzîkî û heke ev nebûya jî tinekirina min a ji hêla maneyê ve hedefa sereke bû. Komplo bi helwesta min asteng bû û nesazkar bû.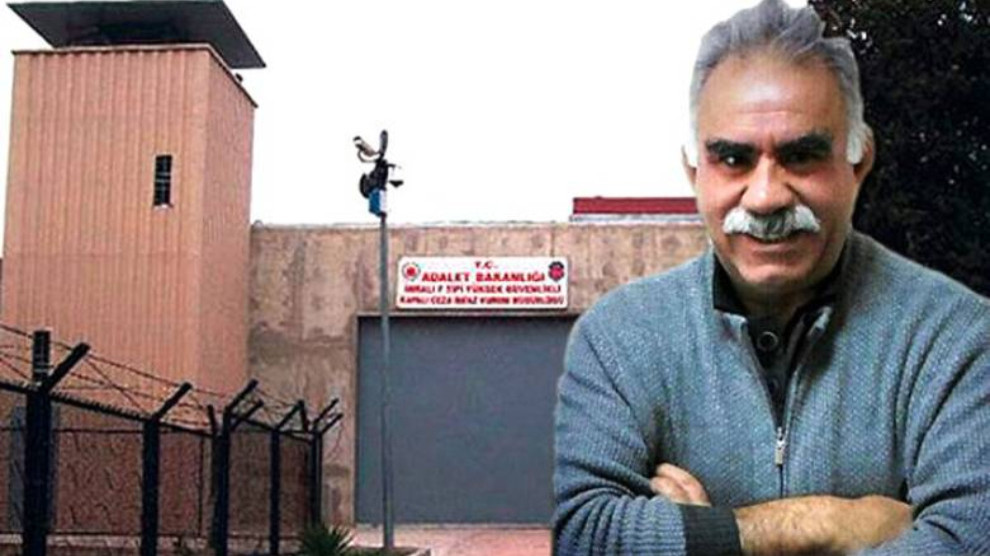 ANF
NAVENDA NÛÇEYAN
Friday, 3 Apr 2020, 13:38
ShareTweetE-mailWhatsAppTelegram
Di şexsê min de dixwestin PKK'ê û Tevgera Azadiyê biqedînin. Kiryarên li girtîgehê, nêzîkatiyên Dadgeha Mafên Mirovan a Ewropayê û Yekîtiya Ewropayê hemû ji bo vê armancê bûn. Li Tevgereke Kurd digeriyan ku diviyabû bêyî min bûya. Rêbazeke mîna rêbazên tasfiyeyê yên sedan salan bi kar tînin, li dijî PKK'ê û tevgera wekhevî, azadiya kolektîf û şoreşger bi kar dianîn. Ya ku ji pêvajoya Îmraliyê hêvî dikirin ev bû; plana ku gelekî li ser xebitîbûn û bi hostatî amade kiribûn ev bû. Stratejî û taktîk di çarçoveya vê planê de dihatin amadekirin. Min pêvajoya Îmraliyê weke platformeke kêrhatî ya ji bo têkbirina vê lîstikê bi kar anî. Ji bo vî jî min bingeha xwe ya teorîk xurt kir. Min hemû argumanên pratîkî û felsefeyî yên mercên çareseriya siyasî û aştiyê afirand. Li ser xweseriya çareseriya siyasî ya demokratîk kûr bûm. Ev karê zehmet ku sebir jê re diviyabû, dikarîbû komployê têk bibe û alternatîfên çareseriyê biafirîne. Di vê mijarê de ji xwe bawer bûm, ku ji bilî vê çareyeke din jî tune bû.

Parastina ku min li dijî van nîşan dida ne li helwesta dogmatîkî ya klasîk a Ortodoks dihat ne jî xwe disparte ser xwexilaskirinê û başkirina şertên min. A ku rêya parastinê diyar dikir rêya xwedî rêgez a li gorî rasteqîniya dîrokî û civakî ya gelan, rêya aştiya birûmet û çareseriya demokratîk bû.
Şertên dema darizandina li Imraliyê, zûka pêşîlêgirtina tundiya wê girtina li ser hîmê komployê pêk hatî, fersendnedana hêviyên komplogeran û tiştên ku xwe dispartin ser û her wiha hewceya kirina a rast, pir sînordar jî be pir hewceyî bi hewldanên wiha didît ku keda xwe li çûneke ber bi aştiyê ve zêde bike. Nêzîkatiya herî pratîk a li vê ew bû ku parastinên ku têne kirin li ser hîmê aştiyê û çareseriya bi yekîtiya demokratîk e. Qet nayê jibîrkirin ku di van şertan de hewaya lînca siyasî hate serwerkirin.
WÊ TUNDIYA KOR RAXISTANA SER DIKÊ
Hawîrdora biryareke bi tendiristî nebû an jî pir sînordar bû. Komplo bi esasî bi avêtina pakêteke ji banî ve ya bi asta hîsterîk a ji bo şowenîzmê, lîstika Romayê ya li arênayekê ya danxwarina bi şêran a sedsaa 20'an hatibû hazirkirin. Li vir mijar ew bû ku tundiyeke kor were raxistin ku ji hemû armancên PKK'ê jî wêdetir bû û dijberî aramncên wê bû. Mixabin hemû hêzên dijber êrîşên întîxarwarî û berxwedan weke mafekî meşrû didîtin û hatibûn ser rêya ku ji vê bawer bikin.
Di rewşeke wiha de ku yek ji mezintirîn îxaneta vê qirnê hê jî we weke dost û alîgirê azadiyê nîşan dida, ên xwedî helwesta herî mezlûm û lehengî wê bi dilnerehmî bihatana tinekirin û bidana jibîrkirin. Meydan wê ji her cure xayin û nokeran re bihata vekirin ku di kemînê de bûn û gelek caran di rewşên wiha de derdiketin holê.
LI DIJÎ KOMPLOYÊ HEWCEYÎ BI RABÛNE PÊŞVERÛ YA MIROVAHIYÊ HEBÛ
A rast her tişt li ser mirina min hatibû eyarkirin. Bi giranî dixwazin ku bi fizîkî û heke ev nebe jî ji hêla maneyê ve min tine bikin. Li gel ku pir li ser fikirîm jî ez texmîn nakim ku ji bilî vê hedefek hebe. Komplo hingî kûr û nediyar bû çirandina vê bi rast jî bi nirxê mûcîzeyî hewceyî bi rabûneke pêşverû ya mirovahiyê hebû.
Hemû cîhan kiribûn aLiyê dijber, her tişt li gorî bawerî û nirxên moralê ên dost û hevrêyên nêz jî ji 'mirineke bi şeref' pê ve tiştek nedipan hatibû danîn. Mantiqa vê qirnê ev bû. Mantiqê dost û dijmin jî ev bû. Cihê ku hîs û bawerî lê cemidîn evder bû. Her tiştî li tenêtiyeke giran mehûm ikir.Li gorî vê rêgeza şer, 'lêreşandin', ez ê nebêjim cezayekî pir dûr e, li gel ku weke heqekî dihate dîtin, ev heq ji bo min nedihate dîtin. Şaristaniyê bi rengekî dî dixwest ku tolê hilîne.
Min ti caran xwe di ber qehremaniyê re nekiriye. Bi qasî ku tê zanîn ne wiha wêrek im jî, li gel ku çawa bim min dixwest wiha werim naskirin jî ez baş pê dizanim dizanim ku min di hevalên xwe yên herî nêz de jî ev nedîtiye. Lê aliyekî min hebû ku min ê bêbextî li vê nekira: Ez ê tim bibûma ew zarokê ku bêbextî li xeyalên xwe nekirî. Min ê xwedayên şaristaniyê nas nekira, di saziyên wan de neheliyama, nebûma mêrê jinên wan. Diyalektîka kesayatiya min geşedaneke wiha pêk anîbû. Mesele êdî ne nakokiyeke navxwe ya basîd a Tirkiyê bû. Pozîsyona min hema bêje ez mehkûmî Promethustiya hevdem dikirim.
Ên ku li benda helwesteke cuda ne, heke rastiyê ji hemû aliyan ve fêhm nekin û heta bi mêjiyê hestiyên xwe hîs nekin wê nikarbin encamên ramanî û moralê jê derînin. Lê di çarmîxa sedsala 20'an de ku hêzên qederê li min fesilandibûn ez ê bi tena sere xwe û bi bêdengiya goristanê bisekiniyama. Heta ku dilê min lêbida û piça dawî ya bîra xwe jî min ê ji bo mirovahiyê bixebitandaya, min ê ev weke xewêna xwe ya sereke û maneya xwe ya sereke bidîta û bi dest ve berdaya.
HELWEESTA HERÎ DÎROKÎ
Dema ji bo yê ku dixwzin rewşa min a Imraliyê fêhm bikin bi kurtasî pênaseya wê dikim ya ku wê pêk were ne rexne û rexnedayineke jirêzê, ne jî bendewariya efûyê û bi rengên dî ye. Geşedanên bi vî rengî nikarin bibin xawên û maneya jiyana min. Bêdudilî, her çendî pir sînordar jî be, ji ber ku gumanê jê nabim ku wê sîsika helwesta aştî û xwîşk û biratiyê be, min ê hewlesta siyasî ya ku dive di rêza duyan de bûya nedaya pêş, ez ê ji ji bendewariyên hevgirt ên rast û çep re zêde nebûam bersiv û xwe nekiriba amûr.
Ez ê li vir li berziyê bigeriyama, li bara şaristaniya hevdem a bêqidoşe têk neçûma. Heke wê cih bidaya aştiya birûmet ku di azadiyê re diçe û cih bidaya jiyana hevpar a bi biratî min ê nirx bidaya her nêzîkatiya siyasî. Weke her carê bi qasî yekîtiya li ser zorê, ez ê neketama nav cihêkariyê de jî û min ê helwesta watedar bidomanda.
HAZIRBÛNA JI ŞER RE JÎ
Helwesta min ew e, weke ku wê sibe beibe her gav ji aştî û lihevkirina demokratîk re hazir be û her wiha weke ku wê sibe dest pê bike, li dijî şerê îmhayê jî bim û her demê bi bawerî, biryardarî û haziriyê bersiva vê bidim. Ji bilî vê ne min jiyan nas kiriye û ne jî jê fêhm dikim.
HATE XWESTIN KU DERBEKE GIRAN LI HÊVÎ Û BAWERIYA GELÊ ME BIDIN
Di vê pêvajoyê de bi sedan mirovên dost û welatparêzan xwe şewitand. Bi pêşpropagandeyeke ku bi mîsogerî ez ê bême darvekirin hate xwestin ku ev hêviya mirovan were şikandin. Ji bo ku min rêxin rewşa mirovekî basît pir hewl didan, pir dilebikîn ku li ber çavê gel min kêm bikin. Hedefa sereke ya pergala zextê ku bicihdianîn ew bû ku bîreweriya siyasî ya gelê welatparêz tine biin û nîşanî wan bidin ku ti doza wan nîne. Strandina stranekê ya ji bo min, an jî xwendina helbestekê ji bo ku werî lînckirin bes bû. A jê xirabtir heke pêvajoya xwekuştinê ya ku ez kiribûm navê heke bi cih bihataya, vê yê pêvajoyeke wiha bidaya destpêkirin ku bibûya sedema mirina bi deh hezara mirov. Ji ber vê mîna pakêtekê radestkirina min a Tirkiyê ji hêlekê ve piştî Japonyayê, ji Helepçeyê gelekî wêdetir wê bandora bombeya atomê nîşan bidaya.
Bi encama hewldana lihevkirina demokraîk û aştiyê ev atmosfera şowen ji aliyekî ve hatiye şikandin. Civakê bi rengekî rasteqînî dest bi dîtina nakokiyên xwe kiriye. Pêvajoya jiyan û mirinê ya li Imraliyê hem hebûna vê hewcehiya veguherînê zelal kiriye û hem jî rê û rêbazên bê ka divê çareserî çawa be berbiçav kiriye. Helbet di vê de dilsoziya PKK'ê û Kurdan a bi Rêbertiya xwe re bi roleke sereke rabûye. Kurd di dîrokê de cara pêşî li bara komployeke herî berfireh ya bi koka xwe li derve û hunir berbelaav nebûne, berevajî bi rengekî derasayî li hev asê bûne û helwesta xwe ya lihevkirina demokratîk nîşan dane.
AN XWEKUŞTIN AN JÎ MIRIV HATE FERZKIRIN
Lê li gel hemû dijwariyan jî pûçkirina pêvajoya xwekuştinê, plangerên ku bi bandora bombeyê danîbûn pûç kirin. Hemû hesab ew bû ku ez li bara van şertên giran xwe negirim, dest bi rojiya mirinê bikim, an jî, bi demanceya ku Sefîrê Yewnan ji min re hiştibû, li min hatibû ferz kirin ku dawî li jiyana xwe bînim. Di vê rewşê de encam wê bibûya bi hezaran çalakiyên fedayî, kûrbûna pêvajoya tundiyê ya domdirêj û xwînî ya ji ya xeleke tundiyê ya Isralîl û Filîstînê wêdetir. Berpirsyariya exlaqî ya li bara gelên me, dostan û hevrêyan û helwesta şexsiyeta min a alîgirê aşiyê hewce dikir ku ez nekevim nav vê lîstikê.
MIN LÎSTIKA LI SER XWÎNÊ BIDAWÎ KIR
Encama wê çi dibe bila bibe min xwe qanih kir heta ku ji dest min were ez bijîm wê baştir be, min ev lîstik xira kir. Komplo bi esasî bi vê helwesta min asteng bû û nema bikêr hat. Min nehişt ku li ser xaka Anatoloiyê û Mezopotamyayê lîstika şer a ku wê bi salan dom bikira, pêk were. Polîtîkaya ku danîbûn weke kurteya van du sed salên dawî ye. Sîsika vê polîtîkayê ew e ku pêşî Kurdan ber bi serhildanê ve bikişînin, piştre wan bê destek bihêlin û piştre ji Tirkan re bibêjin, 'li wan bidin'. Bi gotine dî lîstika, "kîvroşk bireve, tajî zevt bike' dihate lîstandin. Aşkere ye ku polîtîkayeke pir dilhişk dihate lîstandin.
KOMLO NE TENÊ LI DIJÎ KURDAN LI DIJÎ TIRKAN JÎ HATIBÛ KIRIN
Nenîşandana serhildana bi korîtî ku dihate payin, berevajî vê helwesta bi nermî û xwîşk û biratî û lihevkirina demokratîk, bûye asteng ku ev komplo bi serkeftî biçe serî.
Komplo di şexsê de min de ne tenê li dijî Kurdan li dijî Tirkan jî hatibû kirin. Rengê teslîmkirina min û niyeta yên ku di vê de rola wan hebû ne bidawîbûna terorê lê kûrkirina lihevkirinekê bû ku sedsalekî dî jî bidome. Têkilî komployê ji bo dagirkeriya DYE'yê û hevalbendên wê ya li ser Rojhilata Navîn 'Şerê Cîhanê yê Sêyan' were gotin dibe ku hinekî ev ê bibe mezintkirin. Lê dema ku mirov tevgera li ser min bi vê çarçoweyê binirxîne em ê bikaribin bigihin maneya rastîn. Li bara "Sirbîstanê ya Şerê Cîhanê yê Pêşî' mirov dikare bibêje, "Şerê Cîhanê yê Sêyan a Kurdistanê.'
Biryara mirinê ya li dijî min hate dayin, 28'ê Hezîrana 1999'an hate dayin. Ev dîrok (1925) salvegera darvekirina lîderê raperîna Kurd Şêx Seîd bû. Ya ji vê jî girîngtir, 15'ê Sibatê yanî roja radestkirina min, roja destpêkirina raperîna bi pêşengiya Şêx Seîd bû. Her du roj jî bi zanebûn hatin hilbijartin. Yanî xwestin vê yekê ji gelê Kurd re bêjin: Hûn çiqasî serî rakin jî wê encam neguhere! Serokkomar Suleyman Demîrel di axaftineke xwe de wiha digot: "28 caran serî rakirin, hemû hatin têkbirin. Aqûbeta ya dawî jî wê bi heman rengî be."
SEDEMA ESASÎ YA KOMPLOYÊ
Eşkere ye ku senaryo ji berê ve hatiye plankirin. Piştre hîn bûm ku Îsraîl, DYE û Yewnanîstan sala 1996'an tevlî vê senaryoyê bûne. Dibe be ku armanc û bendewariya wan cuda bû, lê belê li ser têkbirina min li hev kiribûn. Min bandora van hêzan a li ser Kurdan û Tevgera Azadiyê ya Kurd gelekî kêm kiribû. Hemû razemeniyên li ser nokerên xwe kiribûn pûç bûbûn. Ji ber vê yekê hemû bi hêrs bûn. Di serî de Barzanî û Talabanî, li her parçeyên Kurdistanê di nava 40-50 salî de razemenî li ser bi sedan kes û koman kiribûn, lê belê ji ber min razemeniyên wan bêkêr bûbûn. Ev yek jî sedema esasî ya komploa li dijî min bûn.
'Amûra Kurd' di destê wan de timî weke pêwîstiyeke jiyanî ye. Ti carî qebûl nedikirin ku ji ber min ji vê yekê bêpar bimînin. Li ser vê bingehê bi rêveberiya Tirk re li hev kirin. Têkbirina Apo bi kêrî hemûyan dihat. Bi Sûriyeyê jî gelekî giran bû. Alîkarê Serok Abdulhalîm Haddam ji rojnameyeke Tirk re gotibû, "Abdullah Ocalan bandorê li Kurdên li Sûriye, Iraq û Îranê jî dike. Ji ber vê yekê me ew avêt, me jî ew nedixwest. Di mijara PKK'ê de em li ser heman xetê ne."
Ez jî divê destnîşan bikim ku min bi xwe jî tam biryar li ser rastiya mirin û jiyanê nedabû. Ev mijar gelekî eşkere ye; eger bi rastî jî veguherîbim kesayetiya kolektîvîzmê, lehengiya şexsî û rabûna li ber mirinê ya şexsî wê nebûya rêbaza min a çalakiyê ku yekser serî lê bidim. Mirina min bi rastî jî rewşeke nediyar bû. Ev rewş veguherîbû kozerke mezin a siyasî.
PKK'ê û Kurdan dîroka xwe ya nû ya îsyanê li gorî encamên biryara darvekirina min hazir dikirin. Derdorên paşverû û şowen ên Tirk bicihanîna biryara darvekirinê ji bo xwe weke veberhênana hilbijartinê didiîtin. Hemû hêzên derve encamên biryareke pêkan dinirxandin. Aşkere ye wêdetirî fikarên takeksî diviya bi berpirs tevbigeriyama. A herî rast ew bû ku her roja ku dijîm li gorî lihevkirina aştî û lihevkirina demokratîk binirxînim. Wê ne siyasî û exlaqî bûye ku min giranî bidaya berjewendiya şexsî. Bi vê mebestê min nedikarî peyamên wiha bidim derdorên me yên ku li benda îşaretekê bûn. Bi taktîkên basît min nikarîbû PKK'ê rê ve bibim. Ji bo hesabên wiha berteng hem derfet nebûn û hem jî ev ê bibûya helwesteke şaş.
FÊHMKIRINA MIRINÊ JÎ
Li dijî mirinê, min hewl da bibim xwedî helwesteke ku mirov dikare bibêje helwesta Sokrates: Watedarkirina mirinê, dîtina felsefeya mirineke çawa û ji bo çi! Di rewşa berdest de, bi qasî ku min texmîn nedikir dijîm. Li bara vê mirina ku mîna şûrê Demokles li ser serê min kil dibe, rabûna mezin a giyên, rabûna mezin a wateyê bi xuşiyekê pêşwazî dikim. Jiyaneke wiha ku mirov nikarîbû çend heftiyan ragire û kevir jî bûya wê biheliya hatibû watedarkirin. A rast ne mirinê ez dahurandibûm, min ew dahurandibû. Biryara mirinê ez bêkêr nekiribûm, min biryara mirinê bi şêwaza wê ya bêyom û kirêt bêkêr kiribû.
Ji parastinên Rêberê Gelê Kurd Abullah Ocalan hatiye berhevkirin.